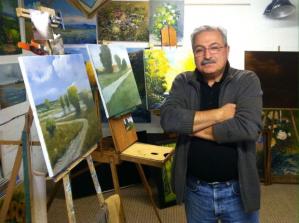 .
Twin Falls Times-News
.



Your Neighbor: The Man Who Lives and Breathes Art




18 hours ago • TETONA DUNLAP tdunlap@magicvalley.com


When We Met

For Boris "Bill" Garibyan, being an artist isn't just a profession. It's how he views the world.

"I never walk just to walk. Some people see a tree. I see the composition," Garibyan said.

On Friday afternoon, he sat inside his studio behind his home in Twin Falls. The smell of linseed oil filled the garage turned art studio. Oil paintings of Idaho rivers, mountains and streams hung on the walls behind easels holding projects in progress.

Two years ago, Garibyan went back to being a full-time artist after the encouragement of his wife, Rena.

"When your heart is not there, you can tell. There was no time for him to create and think," Rena said as she sat with her husband in his studio.

Garibyan said sometimes he...